The quiet little village of Beaver Creek seems to come alive when night falls. Restaurants tucked away in nooks open their doors for happy hours and dinner service. Beaver Creek is not only home to World Class Skiing, but some of the best restaurants the valley has to offer. Here is your list to some great summer restaurants that should not be missed.
Hooked
Seafood in the mountains?! I normally would run away but I am glad I tried this place. Hooked is now one of my favorites restaurants in Beaver Creek. Their concept relies on their ability to obtain fresh fish daily and serve that in ways you don't find anywhere else in town.
Hooked is open daily from 11:30a - 9:00p. Head on in a try their specialty, a fresh whole fish prepared multiple ways. This is not to be missed.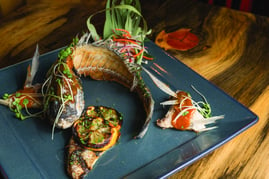 The Met Kitchen
The Met Kitchen is a laid back and casual, social atmosphere. Their menus is an eclectic mix of dishes that will please anyone, from lobster rolls to chicken and waffles. The best way to enjoy The Met is to order everything your eyes desire and share with the whole table.
The Met has a great Happy Hour form 3-5pm, $10 gets you a draft beer or wine and an app.
The Beaver Creek Chophouse
With one of the best locations in Beaver Creek, The Chophouse and CBAR have been a long standing favorite for locals in Vail and Beaver Creek. Situated directly at the bottom of the slopes, you will be treated to a classic steakhouse feel here. Check out their event calendar for live music during the week.
The Dusty Boot
The Dusty Boot offers a saloon like decor with some great food to pair with it. This is a great family friendly restaurant right in the heart of Beaver Creek Village. The menu is filled with American cuisines like steaks, burgers, wraps and salads. The Dusty Boot is another long standing local favorite hang out spot.
Blue Moose Pizza
Pizza! Sometimes there is no better dinner than pizza night. Blue Moose has been serving up some of the best pizza in the valley at their Beaver Creek and Vail Location. Not much to explain on this one, its great pizza, dine in or grab a pie to have back in the room.
Beaver Creek Village is host to many more restaurants, I suggest taking a stroll and window shopping some menus. Enjoy The Beav!