Most of us have settled into a new normal of remote work at home but that does not mean your travel life should take a pause. Mountain towns are up and running, the weather is cooling down and the aspens are beginning to change. Now is a great time to take an extended trip while still getting your work done remotely and safely distancing from others.
Small towns have adapted to the pandemic by offering delivery services, increased outdoor seating and reducing capacity at popular spots. Hotels are always an option but to really be able to setup a remote office, renting a home would be the best option. Rentalz and Deluxuri are great sources to find the mountain dream home to make yours for the week.
Grocery stores are open but to help keep up with social distancing it is best to have them deliver right to you. These delivery services offer same day or can have them in your home and stocked before you arrive.
When you do need to get away from the "office" for some food try these restaurants with great outdoor seating options.
Dusty Boot - Casual saloon style eatery with a wrap around patio. The Dusty Boot is a popular destination for locals and visitors.
Beaver Creek Chophouse - Go to steakhouse located right at the base of the ski resort. They offer outdoor seating on their large patio overlooking the runs.
Coyote Cafe - For over 30 years, Coyote Cafe has served up amazing Mexican food a few steps from the slopes.
When the weekend comes, it's time to have some fun. Whether you are alone or with the family, these activities will get you outside while still being able to distance from groups.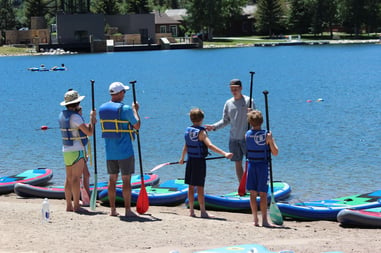 Nottingham Lake - Right down the hill from Beaver Creek, here you can rent Stand up Paddle Boards or Paddle Boats. You can also find a quiet spot at relax near the lake.
Fish the local gold medal waters of the Vail Valley. Minturn Anglers or Vail Valley Anglers can get you out to the right spots for a perfect day of fishing.
Rent a bike and ride the Eagle Valley Paved Path. This is a great way to see the valley below Beaver Creek. For the More experienced rider, hop on the chairlift to tackle some downhill trails.
Hit the links at Beaver Creek Golf Course or take your pick from one of the valleys other world class courses.