Just down the road from Beaver Creek is Nottingham Park, where there's a lake, a beach, and the Vail Valley's newest playground – "Destination Jump, Splash, Learn."
"Destination Jump Splash Learn" opened to rave reviews from children in May of 2018.
The small creek that runs through the playground allows children the opportunity to interact with the water, and the riparian learning areas give children the opportunity to learn about plants indigenous to Colorado waterways.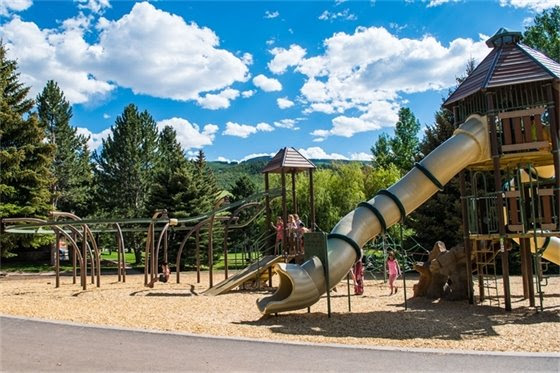 The new playground also includes swings, a zip-line, free standing climbing features, slides and interactive equipment for children with all physical abilities. A Nature Play Obstacle Course provides a play space with decorative climbing boulders, a natural play 'tunnel,' and log steppers.
On Wednesday, June 20th at 10 a.m., officials from the Town of Avon, Great Outdoors Colorado (GOCO), and Holy Cross will gather for an official ribbon cutting for the playground, marking the completion of this grant-funded project. You and your children are welcome to attend, and light refreshments will be served.
In early 2017, the Town of Avon received a $350,000 matching grant from GOCO to improve Nottingham Park's most heavily used 2-acres, replacing a 20-year old playground with both traditional and nature-themed play equipment. The improvements for this project focused on the areas that the community input process identified as the highest need for improvement. These included a larger, updated playground and the relocation of the bike path to increase the size available for the playground space.

The project was a collaborative effort from Avon Town staff, Norris Design, FPM Grants, Churchich Recreation and Evans Chaffee Construction. It is so rewarding to see what was once a vision turn into a reality, and the proof of our good work can be seen daily in the many families enjoying the new playground.